T&T Supermarket Donates 100,000 Masks to Mobilizing Masks Enabling Distribution to 28 Health Care Facilities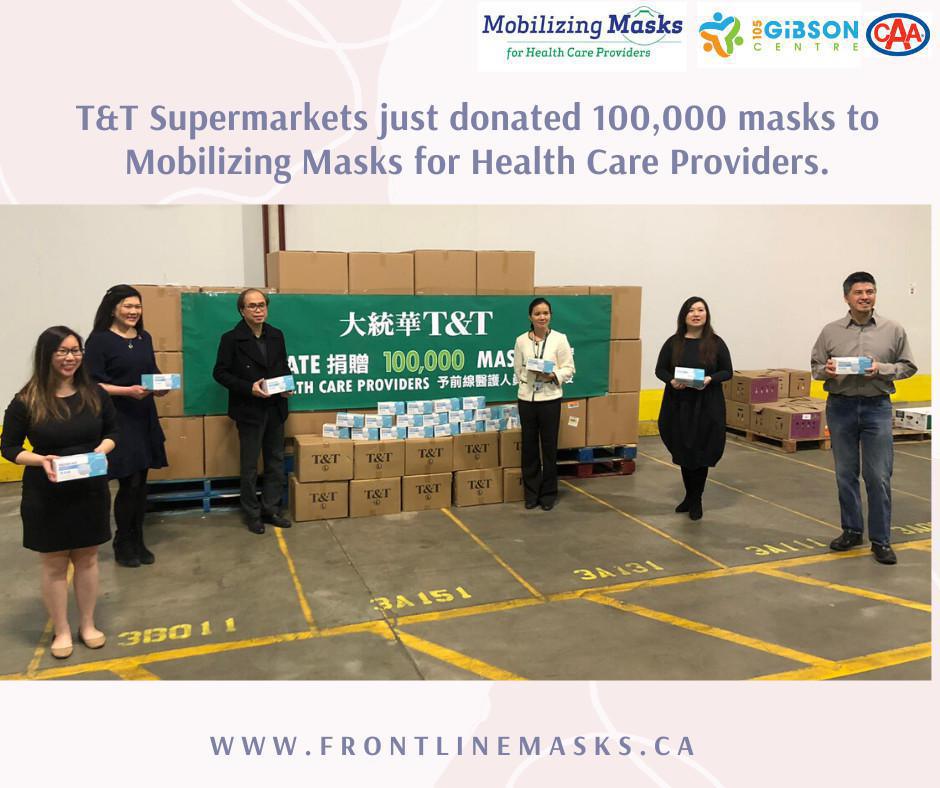 [TORONTO, ON - April 17, 2020] – Mobilizing Masks for Health Care Providers has had the privilege of receiving a large donation of 100,000 masks from T&T Supermarket for distribution to various health care facilities and long term care homes. Ms. Tina Lee, CEO of T&T Supermarket, has also pledged another 200,000 masks in the upcoming weeks to assist frontline workers to obtain adequate personal protective equipment.
Dr. Karen Wang, founder of Mobilizing Masks, commented: "This generous donation by T&T will enable many hospitals and long term care facilities to receive much needed protection and make a meaningful impact to quell the rising tide of COVID-19 infections in the community. With these masks, we can extend beyond the Greater Toronto area to help rural and northern communities. We want to have as wide a reach as possible during this pandemic."
Due to the urgency of the situation and the fact that many hospitals are reaching out directly for assistance, personal protective equipment (PPE) such as face shields and masks were flown by volunteer pilots to hospitals outside of the Greater Toronto Area including Kitchener-Waterloo, Montreal, and Kapuskasking.
With the assistance of their partners 105 Gibson Centre, CAA Club Group and now Purolator, the Mobilizing Masks team were also able to distribute 85,500 surgical and N95 masks and 2,350 face shields to 24 different facilities in one day. The following are a list of receiving health care facilities:
Dryden Regional Health Centre, Humber River Hospital, Lakeridge Health, Mackenzie Health Hospital, Markham Stouffville Hospital, Mon Sheong Home for the Aged, North York General Hospital, Oakville Trafalgar Memorial Hospital, Peterborough Regional Health Centre, Red Lake Margaret Cochenour Memorial Hospital, Ross Memorial Hospital, Scarborough Health Network, Southlake Regional Health Centre, St. Clair O'Connor Community, St. Joseph's Health Centre, St. Michael's Hospital, Sudbury Health Sciences North, Sunnybrook Health Sciences Centre, Tendercare Nursing Home, Thunder Bay Regional Health Sciences Centre, Toronto North Support Services, Trillium Health Partners - Mississauga Hospital, West Park Healthcare Centre and Yee Hong Centre for Geriatric Care.
By making direct connections with these hospitals, long-term care centres and other frontline health care providers, Mobilizing Masks has been able to understand each facility's predicament and try to meet their immediate needs. This allows all donations received to be distributed as equitably as possible and in a time-sensitive manner.
In the last four weeks, Mobilizing Masks has been honoured to receive multiple donations from generous donors and distribute more than 140,000 surgical masks, 5,000 N95 masks, 4,000 face shields, 7,000 gloves and other PPEs. Mobilizing Masks has also raised more than $80,000 to be able to continue to purchase more PPE for health care facilities.
As the pandemic rages on and with more than 10% of COVID patients being health care workers, the critical shortage of masks and PPEs continues to be an ongoing issue. Mobilizing Masks therefore aims to continue their efforts to address the PPE shortage by working with innovative and creative community organizations. It is our hope that our community and private businesses in Ontario will continue to support our initiative by donating their personal collection of N95 and surgical masks to ensure that our frontline health care workers have immediate access to adequate protection. Protecting our frontline is our best defence – allowing us to shield our most vulnerable and protect our community as a whole.
Individuals or businesses interested in donating masks and other PPEs or monetary donations can visit our webapp at www.frontlinemasks.ca. Hospitals and community care services in need of masks and PPEs are also encouraged to submit the Request PPE form on our webapp.
Mobilizing Masks for Health Care Providers is a grassroots organization of physicians and advocates in the Greater Toronto Area. For more information, visit our webapp www.frontlinemasks.ca, on Facebook at fb.me/frontlinemasksGTA, on Twitter @frontlinemasks. Emails regarding donations can be directed to mobilizemasks@gmail.com.
105 Gibson Centre is a Christian faith-based care centre, devoted to bringing positive changes to the surrounding neighbourhood through a wide range of social services. The Centre started operations in October 2013 and is dedicated to serving all members of the community because it is the compassion and hope of Jesus that we want to share. The Centre also serves as a platform for local organizations to come on board and provide programs and services that meet more specific needs.
CAA
For over a hundred years, CAA has been helping Canadians stay mobile, safe and protected. The CAA Club Group of Companies is comprised of two automobile clubs, CAA South Central Ontario and CAA Manitoba, providing roadside assistance, travel, insurance service and Member savings for over 2.2 million members. It also includes the CAA Insurance Company, a national property and casualty insurance company, providing home and auto insurance products distributed through CAA Clubs and select brokerages.
The Lausanne Movement Canada (LMC) was created to, and has become known as, a trusted neutral organization with the aim of connecting influencers and ideas for global mission. Their job is to be a catalyst between all Christian groups, bringing them together to initiate strategic partnerships between assemblies, academia, agencies and businesses. The results have been astounding as inter-agency initiatives have been formed, inter-cultural bridges have been mended, and impressive approaches to issues have been developed.
###
2020.04.17 - Press Release