More GTA Hospitals Benefit from Mobilizing Masks for Health Care Providers' Donation Drive
[TORONTO, ON April 2, 2020] – With the support of the community, Mobilizing Masks for Health Care Providers has been able to gather close to 22,000 masks and and other personal protective equipment (PPEs) and close to $50,000 in the last week to purchase more masks for hospitals across the Greater Toronto Area (GTA).
Mobilizing Masks for Health Care Providers and their partner organization, Carefirst Seniors and Community Services Association, have distributed these masks and PPEs to five different hospitals last week and to another four on Tuesday afternoon. The receiving hospitals include: Mackenzie Health Hospital Richmond Hill, Southlake Regional Health Centre, William Osler Health System, and Women's College Hospital. More distributions to hospitals and community care facilities are planned for this week.
Encouraged by the charitable work that Mobilizing Masks is doing, esteemed organizations such as Canada-Hong Kong New Horizon Lions Club, Fo Guang Shan Temple of Toronto and private donors across the country have also pitched in their efforts. They have come forward with masks donations and are helping to fundraise.
In light of current social distancing measures, Mobilizing Masks for Health Care Providers has been arranging for contactless pick ups of masks donations across the GTA, with the help of Carefirst. Donors can contact the Carefirst hotline or complete the online donation form to schedule a pick up time. This ensures a seamless door-to-door delivery of masks without increasing the risk to the community.
Monetary donations have also been received by Carefirst through their website and donation forms. These monetary donations will be used to purchase more masks and PPEs from reliable, reputable suppliers. All donations above $25.00 will also be issued a tax receipt by Carefirst.
By making direct connections with multiple hospitals and frontline health care providers across the GTA through personal contacts, media contacts and social media presence, Mobilizing Masks and Carefirst has been able to distribute these donations equitably and in a timely manner.
Mobilizing Masks for Health Care Providers continues to plead with our community and private businesses in Ontario to donate their personal collection of N95 and surgical masks or to support them through monetary donations to ensure that our frontline health care workers have immediate access to adequate protection. Protecting our frontline is our best defence – shielding our most vulnerable and protecting our community as a whole.
"Thank you to those behind frontlinemasks.ca for the simple-to-use website and the smooth contactless pick up arrangement! If I knew it was that easy, I should have done it earlier. If you are also like me wondering how this works or pondering the idea of donating, please act on it now as time is ticking! The more PPE the medical staff can have, the better they are protected. Let's support our front line workers!" - Ms. S. Wong, Donor of Masks
"On behalf of all health care workers at Lakeridge, thank you so much for the tremendous work you're doing. Those masks are like gold to us." - Chief of Staff at Lakeridge Health, Recipient of Masks
"Thanks for all that you're doing with the PPE stuff. We really appreciate all the support." - ER Staff, Recipient of Masks
Individuals or businesses interested in donating masks or other PPEs or financially supporting us can visit our webapp at www.frontlinemasks.ca or call the Carefirst hotline at 416-646-5108. Emails regarding donations can be directed to mobilizemasks@gmail.com.
Hospitals in need of masks and PPEs are also encouraged to also email us at mobilizemasks@gmail.com to be added onto our distribution list.
Mobilizing Masks for Health Care Providers is a grassroots organization of physicians and advocates in the Greater Toronto Area. Carefirst is a non-profit, registered charitable community services organization established in 1976. For more information, visit our webapp www.frontlinemasks.ca, on Facebook at fb.me/frontlinemasksGTA, or on Twitter @frontlinemasks. Emails regarding donations can be directed to mobilizemasks@gmail.com.
###
Contact:
Edith Lam, Director of Development and Communication
Edith.lam@carefirstontario.ca
416-847-6007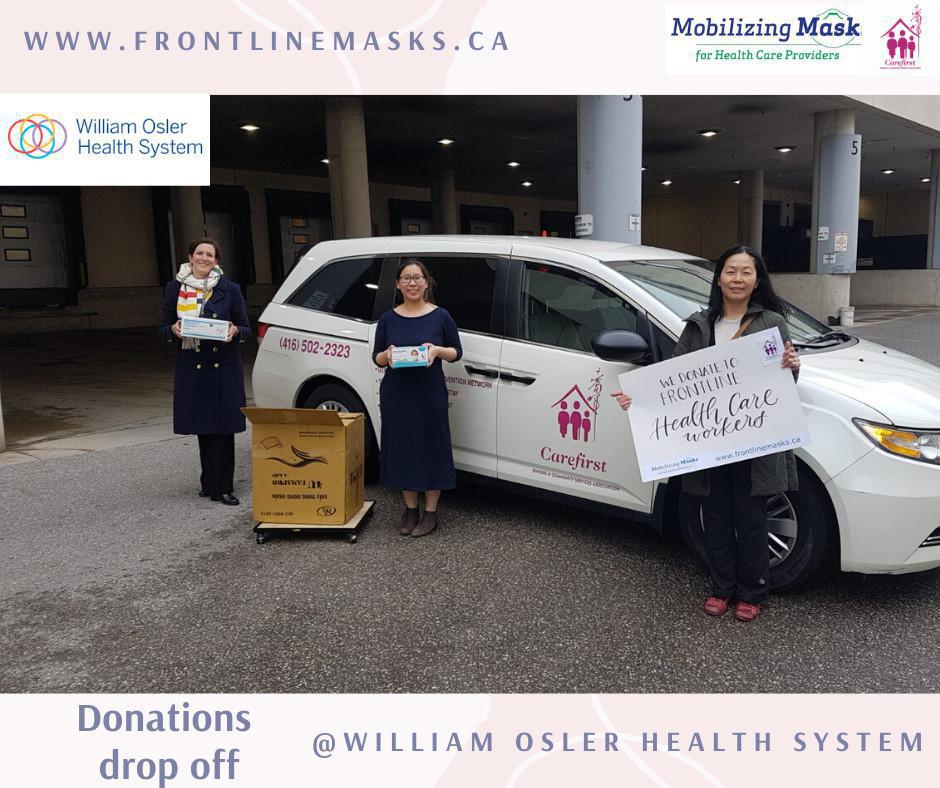 2020.04.02 - Media Release